STEM Factor Challenge
DiceyTech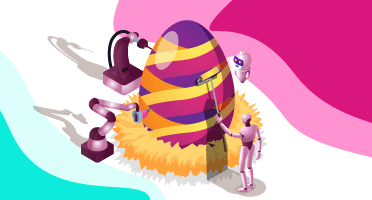 Description
---
This Easter themed Challenge is designed to help learners build design and coding skills in a fun way, by making things that will help with two essential Easter activities - making cookies and painting eggs!
The projects can be completed together by family members or by individual learners - at their own pace. Total estimated time is 4 - 9 hours, depending on prior knowledge.
Project 1 is a simple cookie cutter activity. The goal is to learn the basics of CAD in order to design a custom shaped cookie cuter to make unique Easter cookies. Suitable for learners ages 5+.
In Project 2, learners will build a simple robot and control it to paint Easter eggs. Family members can even create friendly egg design competitions! The goal is to build on the CAD skills learnt in project 1 as well as to learn to write simple Python code and control 2 servo motors via a BBC Micro:Bit. Technical elements of the project can then be enhanced with a little curiosity and determination. Suitable for learners of ages 11+.
The Challenge is to complete both projects and post images and videos of your best egg designs! Make sure to tag us @diceytech on any social channels so that we can review designs and create a poll to choose the winner. The winners receive £100 worth of 3D printing credits!
Costs and Resource Requirements
---
It is completely free to go through the entire course. We have designed the project to minimise the use of hardware and to include household items wherever possible.
Some learners might already have the equipment below, in which case they won't have to spend a penny. Otherwise, the total cost of electronics is around £33. We have included links where you can find all the resources. The cost to 3D print is comparable, but it will depend on the number of models and their sizes. If you don't have access to a 3D printer, we can help do this for you.
Any profits we make from 3D printing will be used to purchase materials for 3D printing face shields for NHS staff fighting against the coronavirus pandemic.
A full list of the requirements can be found below:
1x Egg (but probably more!)
1x Sharpie (or other coloured markers - the more colours the better!)
1x Elastic Band
1x Pen Spring (any pen should work)
1x M3 Screw (8mm)
1x M3 Screw (min 40mm)
1x M3 Hex Nut
1x Screwdriver
1x BBC MicroBit
1x Servo Board
1x 3D Printer (or access to one)